Muhlenberg Scores Significant Increase in Kindergarten Readiness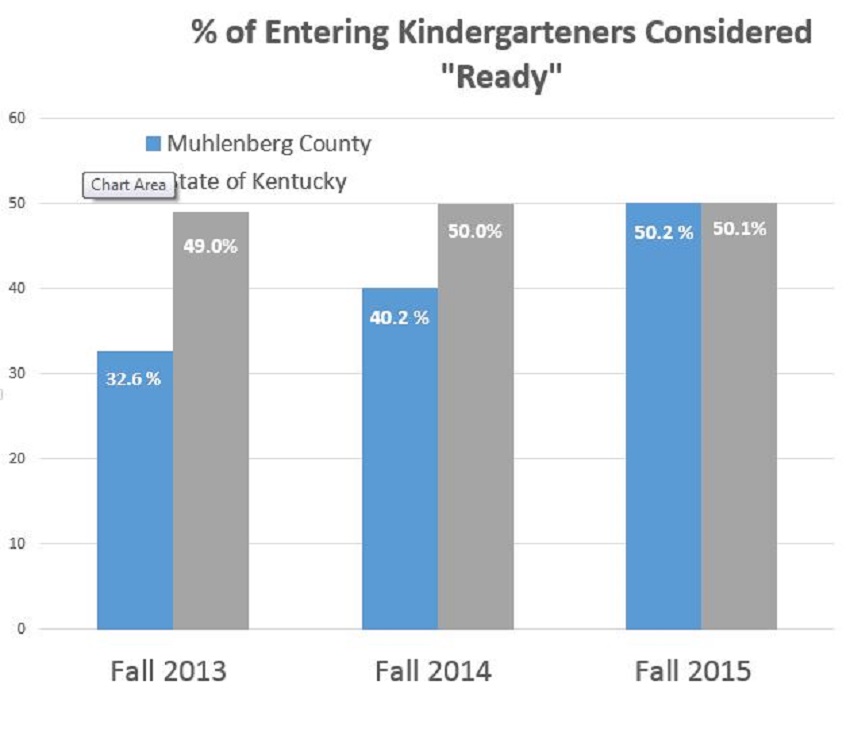 More Muhlenberg County children are entering Kindergarten prepared than in prior years, according to data from the Kentucky Department of Education's kindergarten-readiness evaluation.
Recently released Brigance screener scores show that 50.2% of Muhlenberg County children entering kindergarten in 2015 were considered Ready.   The scores show a significant improvement over the 2014 scores which showed only 40.2% ready, and the 2013 scores which showed only 32.6% ready.  This improvement is especially dramatic when compared with the state average for Kentucky, which has remained around 50% over the last three years.
Vicki Yonts, program manager of SOAR, the Felix E. Martin Jr. Foundation's Early Childhood Education program, is excited about the County's progress. SOAR has over 20 programs committed to improving early childhood education in Muhlenberg County, and Ready! for Kindergarten, a training program for parents of four-year olds, is a key part of their work. "This improvement shows that what we are doing is having a wonderful impact on our kids' educations.  It's been shown that students who start behind at the beginning of their school careers, tend to stay behind throughout all of their years in school.  I am so pleased that the programs we are offering are helping Muhlenberg kids start their education right on track."
The Foundation has committed over $1.1 million in the last six years to early childhood education, offering over 20 free programs in the County.   These programs are strengthened by partnerships with local preschools, daycare & Head Start programs as well as parents and caregivers.  Through these programs, SOAR has distributed over 120,000 free books in Muhlenberg since 2010.  Two of the key programs offered are Dolly Parton's Imagination Library and the Ready! for Kindergarten program, and both are available for all Muhlenberg County residents.
Dolly Parton's Imagination Library is offered in partnership with the Muhlenberg County Public Library.  Any Muhlenberg child under the age of five can sign up at the public library, and they will receive a free book in the mail each month.  Three out of four Muhlenberg children under five are currently enrolled.
The Ready! for Kindergarten program offers 3 sessions each year for parents of children who will enter kindergarten next year.  The program teaches parents and caregivers how to play with their children in a way which will teach them the skills they need to be successful as they start kindergarten.  To help parents, each family receives a bag of toys and materials to take home at each session, along with helpful hints about how to use these toys. 
The Ready! for Kindergarten program began in fall 2013, just after the release of scores showing that only 32.6% of Muhlenberg children were considered ready to start kindergarten.  Over half of the families of this year's kindergarten class participated, helping bring over ½ of this year's kindergarten class up to a score of Ready on the recent screener.
Kathy Jacobi, President of the Felix E. Martin Jr. Foundation added, "The results are even more exciting when you look at the 2015 results for kids who participated in both Ready! for Kindergarten parent trainings and Imagination Library.  Kids who participated in both programs scored 62% ready, while kids who did not participate in either program scored 34% ready.  Clearly the extra programs are making a dramatic difference by getting parents involved."
For more information on early childhood education programs offered by SOAR, or to find out how to take part in the next Ready! for Kindergarten session on January 21, call Vicki Yonts at 270-543-0255.